Learn how to prevent sites from being booked online.
Need to quickly close out your Consumer Site so no new bookings can be made? Do you want to prevent online bookings for a specific site type? Do you want to manage your bookings for next year to prevent online reservations because you want guests to call in?
The Cannot Be Reserved Online rule can prevent selected site types from being bookable online for specific stay dates.
Navigate to Rules
Using the primary navigation button, click on Rules
On the Rules page, click on the Functions tab
Click on Cannot be reserved online
Adding a New Variation
A variation is a rule. Click the New Variation button to open a blank cancellation rule form.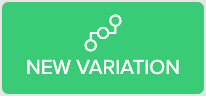 Cannot be reserved online rule form
Variation Name
The variation name is used to identify the rule in the rules list after saving. This field is not customer facing.
Active Dates
The activate dates represent the stay dates to which the rule applies. At least one date group is required. Click in the active dates field and choose an active date group from the list to add a date group.
Site Types/ Add-on Types
A site type or an add-on type must be selected but cannot include both within the same rule. Click in the site type or add-on type field and select an active type from the list to add to the rule.
Expiration Date
Reservations must be created by the end of the day indicated by the expiration date for the rule to apply.
Rule Violation Message
This field produces a custom message when this rule is violated that is only visible to admin users.